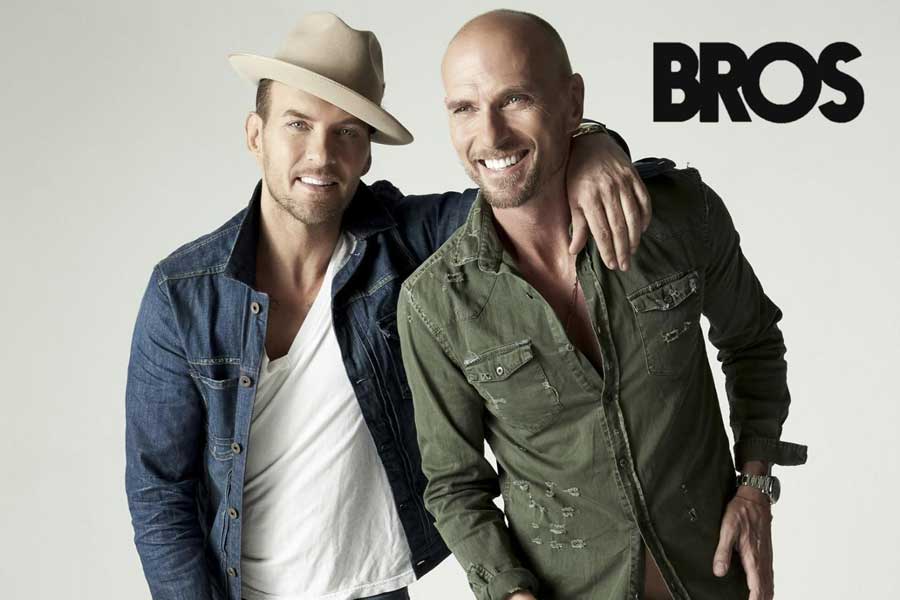 British boy band Bros have announced they are reuniting in 2017 after more than two decades. Brothers Matt and Luke Goss will join forces at London's O2 Arena on 19 August 2017 to mark the band's 30th anniversary – exactly 28 years since they performed their mammoth concert at Wembley Arena in 1989.
Matt and Luke confirmed the news at a press conference in London on 5 October hosted by Emma Willis.
Sharing his excitement to share the stage with his twin brother, Matt told IBTimes UK: "Music is a tumultuous place but it's kept me safe in many ways and just to be on-stage with my brother tops everything. "It's something we've been trying to get together for 20 years and to have my brother sitting here is an amazing feeling. I honestly didn't think this was ever going to happen."
Luke, who has forged a successful acting career in Hollywood, added: "Movies are not as glamorous as you think. It's been a beautiful experience but this for me is a dream come true. It's something I wanted to do at the right level and I think the fans deserve something that would stand up today. I'm like a big kid right now, I'm pinching myself. I'm deeply proud of the band and the fans who have turned up today, it's humbling." Dashing hopes of a new album, Luke explained: "We're going to honour the songs and some of the key sounds. At this stage, other than my brother's new record which I think is wonderful, but because it's been so long, I don't want to populate the show with new stuff. It needs to be a moment to come together. If it was to ever happen again then maybe so but at this point it's a show that people are familiar with."
At the height of their fame, Bros sold 17 million records and performed 19 shows at Wembley Arena including their 19 August 1989 date which attracted an audience of 77,000. Forming in 1987, the band rode high with a string of hit singles and albums but the brothers parted ways in 1992.
Addressing any nerves he may have, Luke said: "When you're younger you think, 'Where are the 70,000 people?' As I get older I'm more conscious and very respectful of it. By the time we get there, we'll be so prepared that we'll just want to get out there and do it. Right now I'm extremely aware of what's ahead of us but it's a good excitement and a good nervousness."
However, a confident Matt said: "I'm not [nervous] at all, I love it. I do so many shows a year. We're just very well aware of our creative energy and force together. We have one interest and that is to better what we've done in the past."
He also stated: "We don't need to do this reunion but we wanted to."
---
Matt and Luke performed 2 shows at The O2 in London on the 19th and 20th August 2017. They are also performing in Sydney Australia in November 2017.
You can watch some videos from the London shows HERE
CHECK OUT THE PHOTOS OF THE REUNION SHOW BELOW
Click on a photo to see the large version.

If any of these photos belong to you, please email me and I will make sure your name is credited.