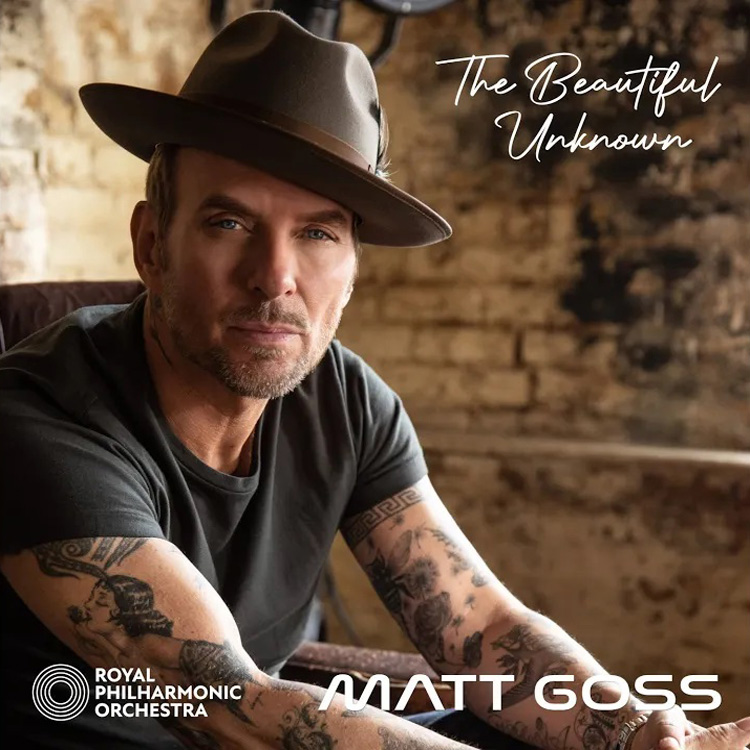 MATT GOSS RAISES A GLASS TO THE BEAUTIFUL UNKNOWN WITH NEW SINGLE BACKED BY THE ROYAL PHILHARMONIC ORCHESTRA BRINGING A MESSAGE OF HOPE FOR CHRISTMAS TIME AND THE COMING YEAR.
OVERWHELMED by the love he received from the British public on his recent return to the UK, solo artist and Bros frontman Matt Goss shares his optimism for the future this Christmas with the release of the title track from his Official Albums Chart top ten solo album – The Beautiful Unknown.
The music legend, who featured in the current series of Strictly Come Dancing, wrote the song as an anthem of hope at a moment when we are living in uncertain times and would love the title to become part of the British lexicon, and enter into our everyday language.
Of the new track, an original composition recorded live with the world-famous Royal Philharmonic Orchestra, Matt says:
"My dream would be that in some way with this song I can help create less fear of the unknown. I, myself, have been through fear and pain not knowing exactly what is next. Although I'm very much a realist, now that I have started to attach optimism to the unknown, my life has felt better."
On Matt's departure from Strictly Come Dancing, he was deeply touched by the 'thousands of messages of love and support' he received during his stay on the primetime BBC1 show, and went to social media, thanking everyone for making him feel so welcome and part of the nation's family.
He says: "It would be overwhelming if I was to even be considered a contender for the Christmas number one. I'm so proud of The Beautiful Unknown and it was incredible to record with the Royal Philharmonic Orchestra. I was humbled that they loved the song, and it would mean so much to me for the British public to take it into their hearts."
The music video features Matt performing live with the Royal Philharmonic Orchestra as the song was recorded from scratch, on a single day, during a wonderful and intense 16-hour session, which left the singer feeling exhausted 'in the most beautiful way!'
Matt concludes: "For me, it's always the most exhilarating thing to hear people sing a melody you have written. This Christmas and New Year I want everyone to raise a glass to The Beautiful Unknown. Come on everyone and join me in being a fellow optimist during these uncertain times. All my love, MG"
The future looks optimistic for Matt. A tour and new album are in final planning stages, a three book deal will follow up his best-selling autobiography 'More Than You Know', and he is attached to three movies in pre-production.
The new single has been released today. You can buy and stream the song on the links below